Iranian Red Crescent Medical Journal Monthly Publication of Iranian Hospital, Dubai
OVERVIEW
Organization: Iranian Red Crescent Hospital of Dubai
ISSN: e: 2074-1812 | p: 2074-1804
Frequency: Monthly
Zahra Farahani, Kazem Parivar, Nasim Hayati Roodbari , Mona Farhadi
Research Article | 22 | 10.5812/ircmj.98803 |
Shiva Khayatimotlagh, Elham Ebrahimi, Seyed Moayed Alavian, Maryam Hassani, Masud Yunesian, et al.
Research Article | 22 | 10.5812/ircmj.99414 |
Iranian Red Crescent Medical Journal:
Jan 2020, 22 (1), 8 articles.
Journal Features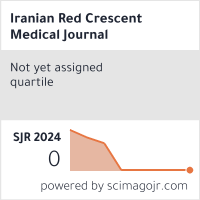 If you have any question contact us
Submit a Ticket:
---
Newsletter
Stay in touch and be informed about our special discount offers and educational letter from Kowsar.